RKMVERI (Deemed University) celebrated the "International Day of Yoga" on 21st June 2023 at Belur Main Campus.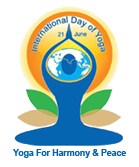 Promoting
Under the aegis of
  
Report of the celebration:
International Day of Yoga was celebrated at RKMVERI's at the Belur main campus as well as 'Off-campus' Centres in Coimbatore (Tamil Nadu), Ranchi (Jharkhand), Narendrapur (West Bengal)
In the Belur main campus of RKMVERI, more than 300 participants from 12 different districts of West Bengal participated along with students, staff and monks residing in the campus.
The delegates came from Birbhum, Bankura, Purba Bardhaman, Purulia, East Midnapore, West Midnapore, Jhargram, South 24 pgs, North 24 pgs, Howrah, Hooghly and Nadia districts.
The various NGOs which participated from different districts are given below:
| | | | | | |
| --- | --- | --- | --- | --- | --- |
| Name of NGO | District | No. of delegates | Name of NGO | District | No. of delegates |
| Yubaparishad | East Midnapore | 16 | Sagar | South 24 pgs | 8 |
| Abhudaya Haldia | East Midnapore | 40 | Offer | South 24 pgs | 18 |
| Belpahari | Jhargram | 25 | Mukta Kantha | South 24 pgs | 21 |
| Kansabati | West Midnapore | 65 | Tehatta | Nadia | 5 |
| ATGHARA | South 24 pgs | 16 | Nivedita CCC | Hooghly | 8 |
| Dighalgram Bakul | Bankura | 10 | Udiyaman Mancha | Purulia | 22 |
| Dipan | Purba bardhaman | 7 | Netaji Sangha | Howrah | 10 |
| Sanskriti bahini | Birbhum | 13 | | | |
Program Schedule:
Common Yoga Protocol Demonstration in the University's ground

7.00 am – 7.45 am: Common Yoga Protocol demonstration conducted by Sri Prashanta Samanta
7.45 am – 8.45 am: Refreshments for participants and break

Cultural Program & Yogasana demonstration at Vivekananda Sabhagriha: 9.00 am – 11.00 am

9.00 am – 9.05am: Invocation & Vedic Chanting by monks
9.05 am – 9.15am : Opening Song by Shyamapada Ghoshal
9.15 am – 10.00 am: Yogasana demonstration by Debra Vivekananda Welfare Society, OFFER South 24 Pgs., and Yuba Parishad Purba Midnapore
10.00 am – 10.15 am: Yogasana program by students of RKMVERI
10.15 am – 10.30 am: Talk by Swami Vidyapradananda, Deputy Registrar, RKMVERI on Patanjali's Astanga Yoga
10.30 am – 10.45 am: Talk by Swami Atmapriyananda, Pro Chancellor, RKMVERI
10.45 am – 11.00 am: Closing songs: (i) Murta Maheswaram (ii) Nikhil Bhuvana and (iii) Siksatakam by Swami Sarvabhadrananda
Video of the entire program on YouTube:
Common Yoga Protocol practice & Demonstration:
Below are some photos: