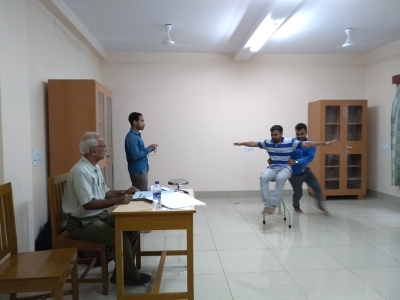 The Department of Sports Science and Yoga offers the following programmes in Sports Science.
1. Ph.D. in Sports Science
Of late, utilization of scientific concepts in sports to achieve higher level of performance could be observed all over world. In India, Sports Science is an emerging discipline in higher education. Sports or exercise science is a multidisciplinary approach encompassing various subjects like exercise physiology, biomechanics, sports psychology, sports medicine, nutrition and so on. A higher University degree is a requirement for working in sports and exercise science in Clinics, Sports Clubs, Fitness Centres and evaluation of professional athletes for a scientific back up in high performance sports. Professional players require a much higher standard of care from the sports scientists who should hold postgraduate university qualifications and be proficient in their job. Considering the future need in the country and shortage of persons trained to support different sporting teams, the RKMVERI has embarked on research and academic courses in this field.
PhD program highlights
The PhD program will follow UGC Minimum Standards and Procedures for Award of Ph.D. Degree Regulations, 2022.
Duration: The duration of PhD program is 3 – 6 yrs from the date of admission to the Ph.D. programme.
Coursework (one/two semesters)
Minimum credit requirement for the Ph.D. coursework is a minimum of 12 credit

1st semester — Compulsory coursework (12 credits): Research Methodology & Statistics (4 credits),  Research Ethics and Publication (2 credits) , Two courses recommended by doctoral committee (total 6 credits)
2nd semester — Additional coursework on advanced topics based  on the recommendation of Doctoral committee.

Research work:

Research Advisory Committee (RAC) : A RAC will be formed for each candidate at the end of successful completion of compulsory coursework. The RAC will guide the student throughout the remaining PhD journey.
PhD registration: With the guidance of the RAC the student will prepare a synopsis of proposed research and make presentation of the same for registration as a PhD candidate
Progress report: Each semester a PHD candidate will submit a brief report on the progress of his/her work for evaluation and further guidance is (after the PhD registration)
Academic service: Ph.D. scholars will be required to do teaching/ research assistantship as per UGC Minimum Standards and Procedures for Award of Ph.D. Degree Regulations, 2022. UGC NET-JRF candidates are required to do compulsory service in the Department's academic affairs as per 'UGCGuidelines For Junior Research Fellowship In Sciences, Humanities And Social Sciences'.
Conversion to SRF: JRF candidates are required to submit research progress reports and make a presentation at the end of 2ys in order to be converted to SRF status.
Objectives of the course
To prepare students for research and professional activities in the field of Sports Science through
Creating awareness about various specialised subject areas in Sports Science
Inculcating enhanced thinking process
Improving ability to convert theory into practices
Developing ability of focused research and application for improving sports performance.
Mastering complex skills that are grounded in and guided by systematic theory and research
Providing sports science support services to sports clubs, fitness centres, sports teams, and the like.
---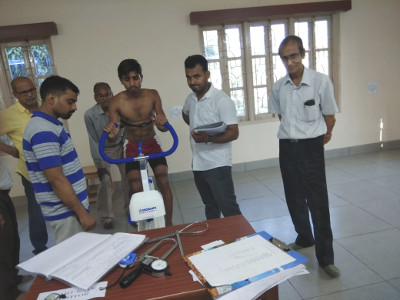 2. M.Sc. in Sports Science
(Two Years Full time course)
Course content
The course content has been developed following the UGC guidelines. Read / download the syllabus