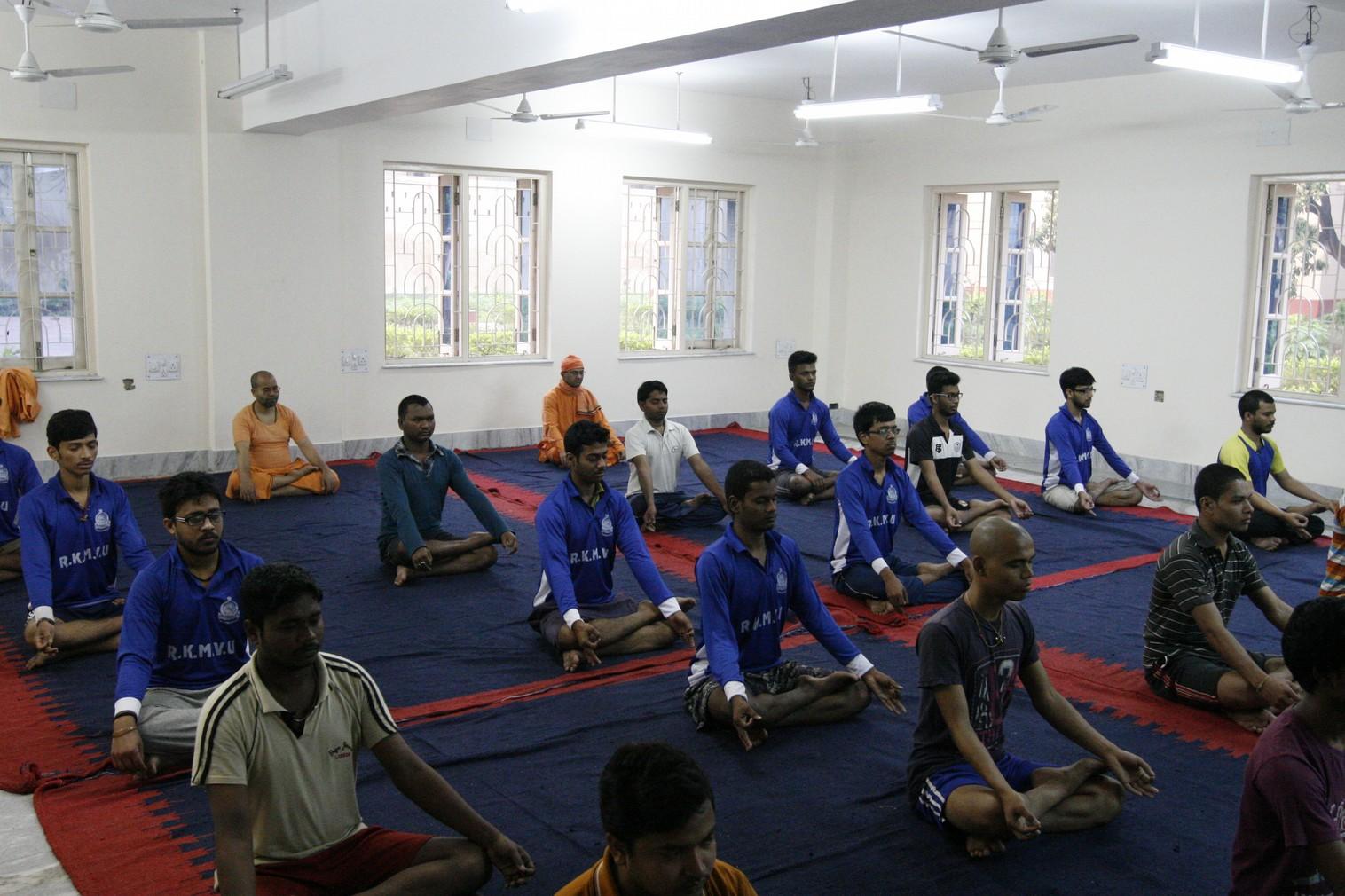 Yoga is for all – Yoga takes a holistic approach to the development and well-being of body mind and spirit. The preventive and promotive aspects of yoga are based on modern scientific principles by which a common man who is not 'Yogi' per se can accrue the benefits of Yoga at the physical, mental and spiritual plane leading to healthy and happy life. Yoga also helps in the management of various diseases particularly on the ones related to life style.
In order to pass on the benefits of Yoga to the community, in particular to the students of the University, the Department of Sports Science and Yoga has launched a YOGA FOR STUDENTS program in January 2019. It is a total 70 hour program, conducted 5 days a week in the morning hours 7.30 am – 8.30 am. Students are taught three important yogic practices, namely, Yogic-postures (asanas) and Yogic-breath-control (pranayama, kriya) and meditation, spanned across five units.
UNIT -1: ASANA, (YOGA FOR HARMONY & PROMOTION OF POSITIVE HEALTH)
Savasana, Padmasana, Swastikasana, Virasana, Brikshasana.
UNIT -2: ASANA, (YOGA FOR WELLNESS: PREVENTION OF DISEASE)
Bhadrasana, Dhanurasana, Kurmasana, Matsyendrasana, Paschimottanasana.
UNIT -3: PRANAYAMA, (YOGIC BREATHING TECHNIQUE FOR PRANIC BALANCE)
Nadishodhana Pranayama, Suryabhedana Pranayama, Chandrabhedana
Pranayama.
UNIT -4: PRANAYAMA, (YOGIC BREATHING TECHNIQUE FOR CONCENTRATION)
Bhramri Pranayama, Shitali pranayama, Bhastrika Pranayama.
UNIT -5: MEDITATIVE PRACTICE S FOR IMPROVING CONCENTRATION & MINDFULLNESS
Meditation on Guru, Sun, Moon.
VENUE: Atma Vikas Hall
Dress Code: Trouser / Tracksuit & T-shirt.
Articles to be kept during classes: Note Book, Pen, Towel, Water Bottle.
The first batch started on 15th January 2019 with 21 students from the Vijnanananda Bhavan (Science
hostel).
Official Notice: YOGA FOR STUDENTS